Top 5 Best Smartwatches for Fitness and Workouts (With Additional Features)
,Top 5 Best Smartwatches for Fitness
Traditionally, people use smartwatches for fitness tracking, as they can accurately measure things like steps taken, distance travelled, and calories burned. Others use smartwatches to stay connected with notifications from their phone or to control other devices such as smart home appliances or music speakers. Still, others use smartwatches for mobile payments, or to access a wide range of apps and features on their wrist.
 Ultimately, the usefulness of a smartwatch will depend on an individual's personal needs and preferences.
This post would reveal to you some of the best smartwatches for fitness these days with updated features. So, hang on tight while we take you on an adventure of health and fitness.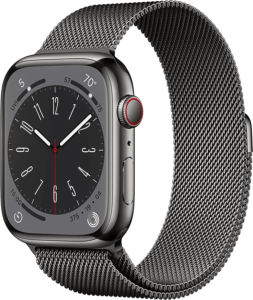 Apple has created a cult for its users as they only want the brand "APPLE". It knows its customer well and therefore, is able to create something new each time. With increasingly fast-paced modern times, preferences have been changing fast.
Apple Series 8 smartwatch is s gadget that shines the best out of the rest. The primary features of fitness, connectivity, and personalization remain the same as the rest of its smartwatches. However, Apple has come up with advanced usability.
Let's explore more about this one of the best smartwatches for fitness to help you decide whether you should let go of some bucks for it or not.
Features
Style: Apple Series 8 smartwatch is designed to fit wrists of 150-200 mm.
Color: The color of the smartwatch is graphite stainless steel
Screen size: The screen size is approximately 45mm.
Display: The smartwatch is equipped with a display of OLED.
Shape: The shape of the screen is square
Recommended age: The usage is recommended for adults, people aged above 18 years
Features in detail:
The watch has a heart rate monitor (of course, being a fitness smartwatch, it is mandatory), sleep monitor, detection of oxygen levels and activity tracker, etc.
The crash and fall detection features are one of the most innovative features that Apple has introduced lately in its other two smartwatch designs. Apple Series 8 has one too. As the smartwatch is compatible with an iPhone, crash detection works on its models effectively. It is considered a creative health feature to ensure safety, hence, one of the best smartwatches for fitness.
The smartwatch can promptly detect a crash or fall. The severe risk is immediately reported and the user is connected to the Emergency SOS. Immediate assistance is set to the user before any severe damages occur.
Another mandatory health feature is taking ECG anytime, anywhere. Heart rate is constantly updated on the watch for the user to see with error-free connectivity. Apple Series 8 has a close eye on your blood oxygen level and sends a message if it notices irregular heart rhythms. Sleep is monitored smoothly by this best smartwatch for fitness as REM, Core or deep sleep phases are continuously checked.  
With more than a dozen apps on your wrist, fitness tracking remains a hassle no more. Training to read and measure the metric for your perfect health monitoring is a viable feature in Apple Series 8. Its powerful performance comes with a warranty of three months.
However,
its durability certifies that you need to look no further. It is IPX6-X dust resistant as well as crack resistant. It means using in a desert or mistakenly dropping it on the floor would not be a concern. What's more? It is swim-proof with WR50 water resistance!!
Talking about connectivity, it is seamless. Why do we say so? Because you can connect with any Apple device and unlock your Mac easily. The automatic connectivity with a mere tap makes it convenient for the user to even pay and send money.
This very connectivity allows the user to send text messages and make calls whenever they like. Travelling internationally when you are missing your family the most, the Family Setup lets the user manage connection with your family who lack an iPhone. The cellular connection makes this best smartwatch for fitness with advanced retina detection a wholesome new gadget to look forward to.
Customization is not a problem on your Apple smartwatch as dozens of bands are available in the market to enhance it for your personal look. The watch faces of various colors are also there to compile your watch in a completely versatile look.
Its biometric sensors are superb for monitoring all the health-related elements
A temperature sensor that further helps women in tracking menstrual cycles, fertility, sleep patterns, and body tracking data
Users extensively liked its crash-detection feature
The same design as Apple's previous smartwatch- nothing new
No detection or monitoring for core body temperature
Sleep monitoring does not seem to have much usability
---
Apple Watch SE is considered a "value smartwatch". Why? Although the smartwatch is not equipped with the latest modifications, it still has the most attractive features- the most wanted ones. Let us have a look.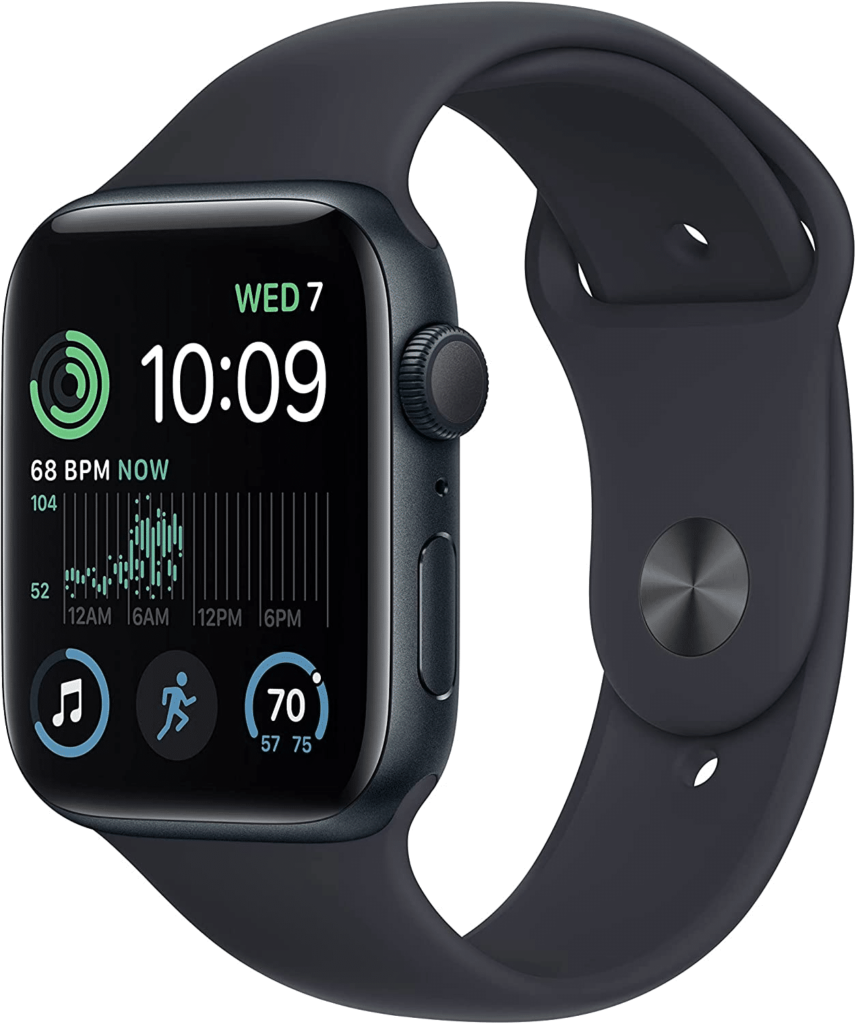 Features
Style: Apple Watch SE is designed to fit wrists of 140-190mm.
Color: The color of the smartwatch is midnight aluminium
Screen size: The screen size is approximately 44mm
Display: The smartwatch is equipped with a display of OLED.
Shape: The shape of the screen is square
Recommended age: The usage is recommended for adults, people aged above 18 years and kids
Features in detail:
All the features are similar to that of the Apple Series 8 smartwatch since it is also a fitness smartwatch. This one of the best smartwatches for fitness is of high value for those who value "crash detection". Yes, it is among those few smartwatches from Apple that have this prioritized feature.
An irregular heart rhythm or low heartbeat is immediately detected by Apple Watch SE. The fast mechanism of identifying temperature, heartbeat, and safety attributes makes this watch the most desirable of all.
For you to have peace of mind, it presents your fitness metrics while you are working out, With access to Apple's play store, you can download any app on the smartwatch right on your wrist, With connectivity to your iPhone, the tapping of sending and money is done right away.
Customization is a fun way on this smartwatch, The reason for its enlisting in the best smartwatches for fitness since it augments your personality, With its water resistance, the band colors and changing to match the back case are some of the amusing ways to stay engaged with your gadget for hours.
Its affordability is the biggest pro, as parents can easily buy it for their kids due to its reasonable pricing
A good alternate gadget for kids in place of gifting them a smartphone
Strong activity tracking
Battery life is excellent
Comfortable to wear for longer hours
Quick swapping available for strap changing
Apple Pay feature already available
No all-time-on feature for its screen
Sleep tracking is not that advanced, and even not much in use
ECG is absent
---
Apple Watch Ultra is a special watch designed for "demanding" users. The most striking feature is its unique design that catches the attention of the buyer on the spot! Do not be misled by its strong metallic look that might look heavy. It is comfortable to wear, just like any other Apple watch.
Features
Style: Apple Watch Ultra smartwatch is designed to fit wrists of 130-200mm.
Color: The color of the smartwatch is midnight ocean with a titanium case along with a strong band
Screen size: The screen size is approximately 1.92 inches  
Display: The smartwatch is equipped with a display of OLED.
Shape: The shape of the screen is square
Recommended age: The usage is recommended for adults, people aged above 18 years
Features in detail:
The side button is almost unmissable which lets the user start customizing his watch immediately coming out of the box.
It seems to be a MUST feature for all Apple watches and the same is seen in Apple Watch Ultra. Which one you ask? The water resistance! Its rugged build makes it a perfect choice for those who want to go for a swim every day and be rough and tough with their fitness while on the swim. Its very build is particularly for outdoor adventures and sports.
Have you considered why we talked so much about its toughness? The titanium casing provides 49mm corrosion resistance. The buttons are plainly placed so that the user may get immediate physical control. Customization begins right there!!
Apple Watch Ultra is designed for endurance. Because it is commonly used by athletes, this is one of the best smartwatches for fitness. While jogging, you can quickly check your heart rate, temperature, pulse, and running pace, among other things.
Connectivity is mastered with a GPS connection so that location detection does not remain a hassle. Working out anywhere, while in the sun or water, is fittingly shown on its screen with clear measurements of distance and route.
Its special 36-hour batter makes it a worthwhile purchase for tracking health and fitness on the go, It has an always-on retina scan whenever you need to track something on the screen. It can also be customized with either face or retina scan, with higher levels of protection.
Hardware repair for parts and the labor for repairing
Apple Care is available with two years warranty
24/7 support and access to Apple's certified technicians
With a big and flat design, it appears bulky
The only connection is to iPhone and Apple devices
Somewhat pricey
---
Apart from Apple watches that we have discussed enough above, Samsung Galaxy Watch 5 Pro is an Android smartwatch, It has Google's latest Wear OS Software, which is a great addition for Android lovers, The reason for its enlisting in the best smartwatches for fitness is its compatibility with Samsung One UI Interface as well as integration with Google Assistant. It helps in automatic workout routine initiation, sleep monitoring, blood-oxygen monitoring, and stress analysis, etc.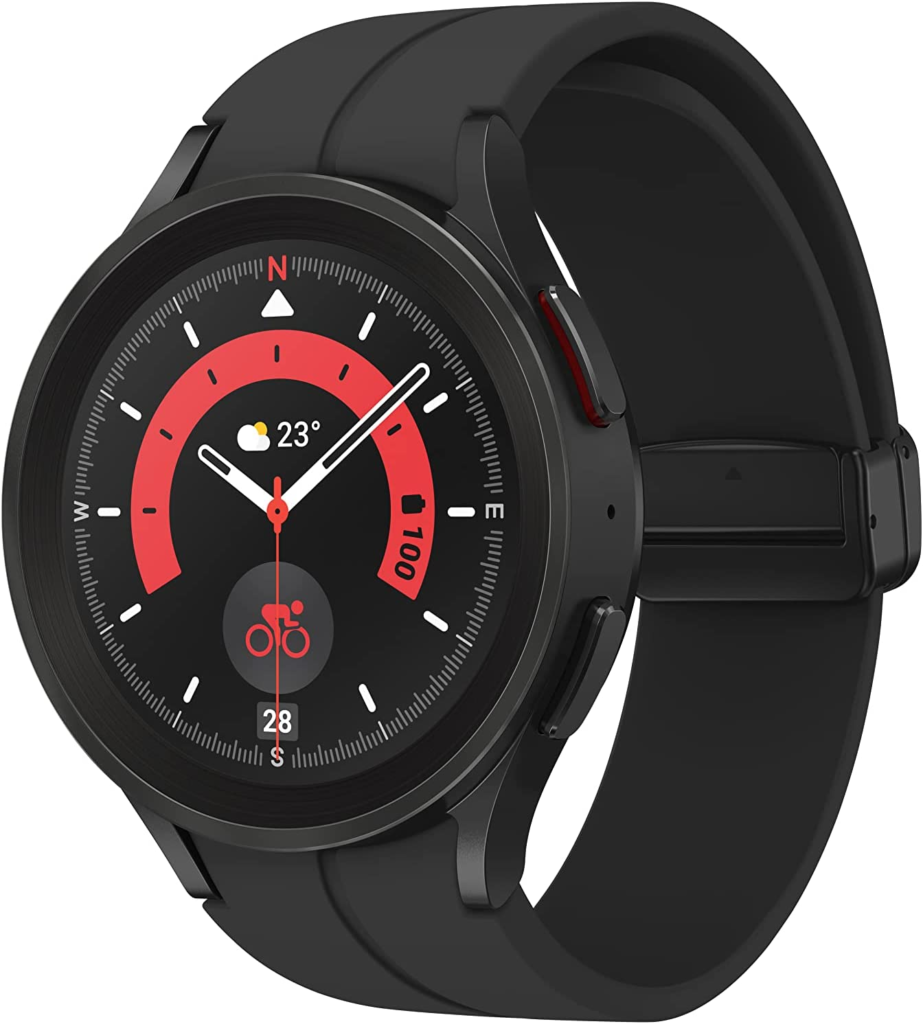 Features
Style: Samsung Galaxy Watch 5 Pro is equipp with band material of silicon and Bluetooth connectivity.
Color: The color of the smartwatch is black
Screen size: The screen size is approximately 1.4 inches
Display: The smartwatch has an exclusive Sapphire Crystal display
Shape: The shape of the screen is a circle
Recommended age: The usage is recommended for adults, people aged above 18 years
Features in detail:
Best of all are the features for tracking health, such as sleep monitor, daily workout routine memory, monitoring blood pressure at regular intervals, activity tracker and elevation tracker, etc. The special sleep coaching assists in keeping a close eye on sleep patterns so that fitness is not disturb.
Elevation Tracker with GPS connection is one of the best support that the smartwatch has, With Bluetooth connectivity, wireless communication stays intact so that your smartwatch and you stay in touch for constant updates of body composition data. This update helps in scheduling, getting readings for body fat, measuring body and skeletal muscles, basal metabolic rate, and most important, body mass index (BMI).
For all these features to work precisely, Samsung Galaxy Watch 5 Pro has improved sensor accuracy, It means that staying updated every minute is no more a problem when you get an accurate heart rate with BioActive Sensor being close to the user's skin, What is more? Running, rowing, and swimming- all types of physical exertions are track by this skin connection, which could be timed, for example to 90 minutes.
The always-on display with super AMOLED panel is compulsory
A certified gadget for monitoring blood pressure and ECG
IP68 water resistance
Battery backup is strong enough to last several hours
10W Qi wireless charging
Enabled with a loudspeaker for call support
Excessive storage with RAM
Available in only two colors
No arrangements for brightness available
No SD card slot
Single eSim
Lacks 5G support
---
The best thing about Fitbit Charge 5 is that it is one of the most reasonably price smartwatches with the most practicable health features. The aim for adding this to the list of best smartwatches for fitness is that its smallest feature, tracking footsteps, is correctly numbered and precise. This is done after the initiation of physical activity of 10 to 15 minutes.
Fitbit Charge 5 should be one of your finest buying decisions if you care about your mind and body. It comes with a 6-month premium membership with a Readiness plan. Daily activities are scored on this smartwatch which gives a clear overview of your health performance.
Features
Style: Fitbit Charge 5 is designed to meet the need of modern users
Color: The color of the smartwatch is graphite and black
Screen size: The screen size is approximately 1.04 inches
Display: OLED display; the smartwatch has a double-tap feature to turn it on, swiping up and down to personalize it according to your daily fitness needs
Shape: The shape of the screen is rectangular
Recommended age: The usage is recommended for adults, people aged above 18 years
Features in detail:
Daily Readiness helps the user to reach daily targets and meet new goals, Sleep patterns are regularly monitor along with heart rate as you go with your daily plan. It would not let the user lose motivation as vibrations and quick prompts keep the user going.
Another intriguing feature is the refreshing mindful sessions that let you be on track for your practice of mindfulness, These sessions are consider best for stress management; whether you are in the office and having a hard day, these sessions would come to your rescue with one tap.
Active Zone Minutes are earn by the user through losing fat, doing cardio for a certain number of minutes, and reaching a heart rate peak that would show high cardiovascular activity, To maximize this time, 2 active zone minutes are given for one minute of cardio exercises done, You can personalize the settings according to your beginner or expert levels.
Other health and fitness features include skin temperature tracking, oxygen saturation monitoring (Sp02), scores for stress management, and reminders for daily health and fitness routines.
Fitbit Charge 5 comes with a usual one-year warranty. It has a stainless steel back. The accessories include a charging cable and lithium batteries are already includ in the smartwatch package.
Water resistance is up to 50m
Battery life up to 7 days
24/7 heart rate and AZM tracking
ECG certified tracker
Conveniently tracks stress and has an EDA sensor
6-month premium membership
Easy mobile payments
It does not play music
No physical buttons
No elevation tracking
It does not have hundreds of apps and clock faces
No enablement of Google Assistant
---
Conclusion
There are several excellent smartwatches available for fitness aficionados, but a few stand out above the rest. It depends on what features are most essential to you and whatever platform you choose, but you can't go wrong with this list, These are some of the best smartwatches for fitness—all top-of-the-line alternatives that may help you remain on track with your fitness objectives, They will assist you in keeping track of your workouts, tracking your progress, and staying inspired.
Are smartwatches good for fitness?
Smartwatches can be a useful tool for tracking fitness and physical activity, as they offer features such as accelerometers, heart rate monitors, and GPS.
What is cheaper than Apple Watch?
There are many smartwatches that are cheaper than the Apple Watch, such as Samsung Galaxy Watch, Fitbit, Amazfit, and Xiaomi Miwatch.
Which smartwatch is as good as Apple?
The Samsung Galaxy Watch and the Fitbit Versa are consider to be strong competitors to the Apple Watch in terms of features and performance.
Is Fitbit expensive?
Fitbit devices vary in price, with some models being less expensive and others being more expensive.
Does Fitbit do blood pressure?
No, Fitbit does not have the capability of measuring blood pressure.