Affordable Laptops for Students: Top Budget-Friendly Picks for Online Learning
Top Budget-Friendly Picks for Online Learning
These days, a laptop is one of the most desired study accessories. Making assignments and taking online classes is increasingly a must, especially after Covid-19. However, many students and their families have restricted budgets, making it difficult to locate a reasonable laptop that suits their demands.
In this post, we will look at some of the outstanding affordable laptops for students on the market today, as well as what to look for when making a purchase.
1. Acer Chromebook Spin 311(Affordable Laptops for Students)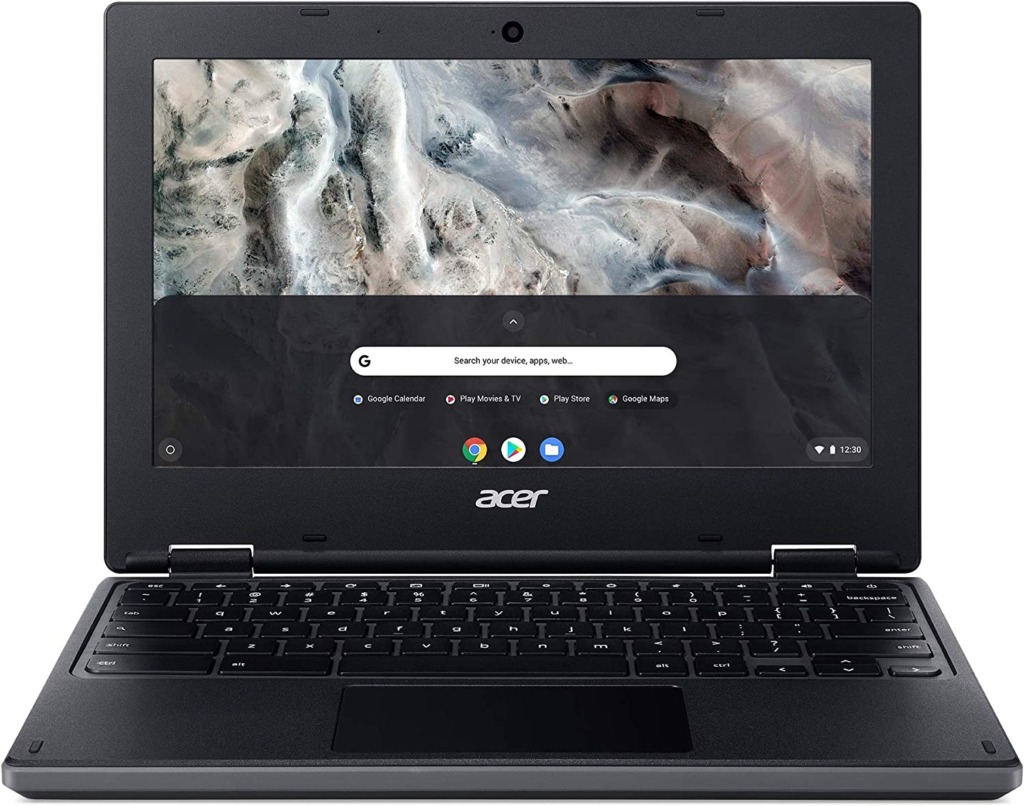 Acer Chromebook Spin 311 is a laptop for students who want to stay within budget. This affordable laptop for students is fun to use and is reliable while working. Its versatility comes from its battery life and highly interactive features.
Let us talk about its features in detail for you to decide whether you should finalize your buying decision for it.
Features
Although it was release back in the year 2020, do not undervalue it for its power. It is one of the finest laptops by Chromebook till 2021. The upgraded specs, design and flexibility, and the strength its build provides for the user make it one of the best student laptop choices.
Acer Chromebook Spin 311 is available in black color. The screen size is 11.6 inches. The CPU model that is inside the body is AMD A4. The RAM memory it offers is 4GB. The operating system integrated inside is Chrome OS. The benefit of this operating system is that it starts within seconds, and loads the main page within no time. The fastest way to boot up this Chromebook makes it the best affordable laptop for students.
The card description is both integrated and dedicat. Acer Chromebook Spin 311 has built-in storage for gaining access to files and stored games offline. Approximately 100GB of data could be stored easily on the device with convenient and automatic backup.
Graphics are of superior quality with AMD Radeon R4. The graphics help in running the apps successfully as pictures and games run smoothly. Google apps let the user download any application within a few minutes, such as Microsoft Office. It is the most in-demand app for students who want to make assignments with Google Docs, and Sheets and make presentations with slides.
What's more? You can get access to more than two million apps with Google Play. Fun time along with hard work is the best combination coming with such affordability.
Excellent design and strong build
Suitable size for work
Comes with accessories like a stylus and case
The touch screen works superbly
Equipped with a flip mechanism
Big bezels, and the side borders on the screen, make the screen unattractive
The actual screen size is minimized due to these bezels
Below average battery
The screen brightness is dim
---
2. Acer Aspire 5 (Affordable Laptops for Students)
Affordable Laptops for Students
Another notable and affordable laptop for students is Acer Aspire 5 due to its IPS display and quad-core processor. Not only this, other excellent features make it one of the top choices for students. Let us dive in details then.
Features
Acer Aspire 5 has a stunning full HD view that gives a full bright exposure for the screen. The brand has intelligently set an 82.58% screen-to-body ratio for keeping a safe distance between the user and the screen. This is enough space for students to edit, work and create for school and college work- rightfully a leading choice for affordable laptops for students.
Acer Aspire 5 has a screen size of 15.6 inches. The color is sparkling silver. The hard disk is 128 GB. The CPU model is 3 3350U. The RAM memory in this laptop is 4GB. There is one memory card slot with a 128GB solid-state storage drive. Storing files and data offline is no more a hassle. The operating system is Windows 11.
Acer Aspire 5 has a special feature of a biometric fingerprint reader and a backlit keyboard. The backlit keyboard is one of the popular features that modern students like these days. It gives light for typing in the dark.
The graphics card is integrated only. The visuals are maximized with an aspect ratio of 16:9. It has narrow bezels, unlike the Acer Chromebook Spin 311.
Windows security is equipped with Hello sign-in. It requires a password to keep a student's work protected. The fingerprint reader could also be used for the same purpose. Further security measures make it a strong option for enlisting in affordable laptops for students due to protection against phishing. Malicious software is instantly detected by the laptop so that the student's hard work is not deleted. Navigation of web pages for downloading something is not a think-twice task now.
Affordability
Its cooling system is excellent
RAM can be upgraded as per need or choice
Handy scanner for fingerprinting
Single and multi-core device performance
Plastic body
Design seems outdated
Weight (3.75 pounds) is quite heavy for easy portability
No graphics card slot
---
3. Samsung Galaxy Chromebook Go 14"
Great typing and performance are the two best features of the Samsung Galaxy Chromebook Go, a budget-friendly laptop for students. The battery is a tempting choice in this affordable laptop for students as web browsing for a long time is not a big deal anymore.
 It has a comfortable keyboard for students to type for assignments and search on the web for hours. The soft tapping of the keys ensures that the command given by the user is conducted flawlessly. The reliable results given by the Galaxy Chromebook ensure that taps and gestures are listen to satisfactorily.
Samsung Galaxy Chromebook Go has a 14-inch screen size, which is quite enormous for students' eyesight. It has integrated Intel UHD graphics for an outstanding visual experience. The display resolution that it supports is 1366×768. The screen is a no-touch screen to keep it pocket-friendly for students.
Features
Its performance is measured by the speed of its CPU, which is 1.1 GHz. It might be consider low compared with other laptops of the same specs. However, there is no problem with its running, booting, and shutting down when you are done working. The apps do not hang in between, for example, Google Docs keeps running smoothly.
The color of the device is silver. The device is lightweight due to its plastic build. It adds to its portability score. Still, it is tougher in its build and longevity.
It has WiFi 6 connectivity as well as Bluetooth 5.1. It has a USB C-type port. It has a SIM card slot that keeps the students stay connected when there is no WiFi and stay connected with friends while discussing class notes or taking an online class. Bluetooth connectivity allows connecting headphones for music or big bass speakers to keep the volume high when you want to have fun.
Long battery time
Comfortable typing experience with its keyboard
Fast, stable, and reliable
Low vulnerability to viruses
Compact and lightweight build
Poor webcam
Weak display as compared to other laptops in the same price range
Saving on cloud storage is required if you want to edit outside of documents
---
4. Dell Inspiron 15 3000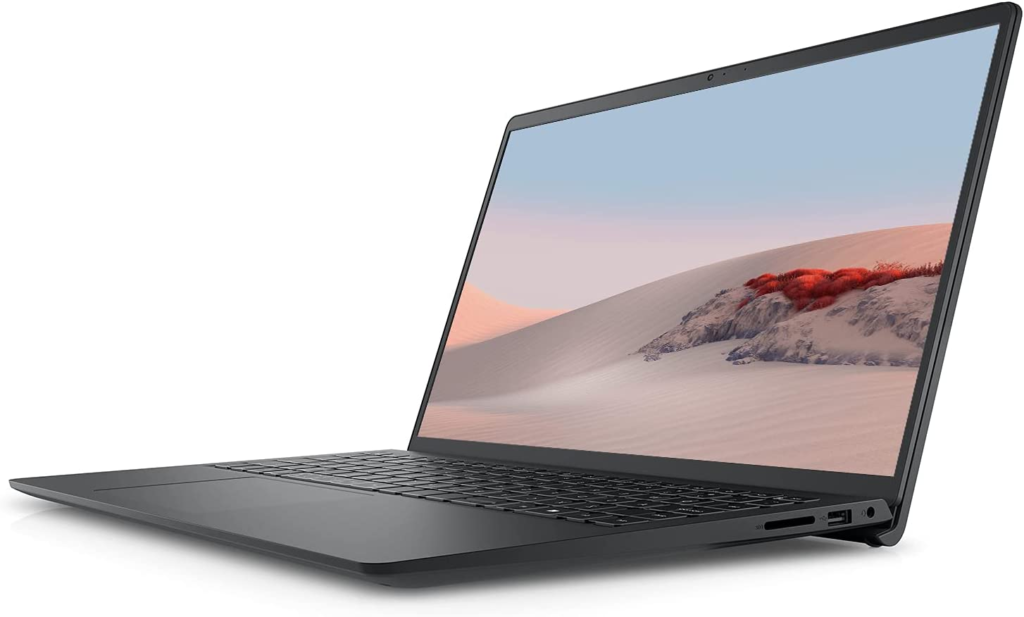 Dell Inspiron 15 3000 is a bit pricey but comes with an intriguing feature for students who do not satisfy their fun instinct with music only. It has graphics for casual gaming along with a business student's laptop. These features make it a powerful and affordable laptop for students who want more from their working devices.
Dell Inspiron 15 300 comes with 15.6 inches screen, which is an apt size for students to use. It has an anti-glare LED backlit and non-touch display screen, still keeping the look and feel of the laptop quite above average. Moreover, this anti-glare screen effect does not create any effect on the visuals. The visual quality remains as vivid as required by the general user during media consumption.
The entire body color is black which gives it a sleek look. The hard disk is 256 GB and the RAM memory is 8GB- huge enough to store plenty of data offline. This is a major reason for its fast performance as compared to traditional students' laptops. Multi-tasking, such as conducting online research and rewriting in your Word Docs is not a trouble with 8GB processing.
The 1.1 dual-core processor adds to its speed where the booting and shutting down processes do not take a long waiting time. The Intel processor adds to the performance, helping its name to be count as one of the best affordable laptops for students. It runs various apps online smoothly since multitasking is its performance attribute.
The touchpads work quite well, for both the mouse and keyboard. Although, students could attach separate mouse as ports are available on the sides.
All plastic but with a strong built
High portability rating since it is light in weight and easy to carry around
Solid tracking of the touchpads
Somewhat weak battery
No Type-C ports for USB
Speakers do not have a strong sound
Screen brightness seems low
---
5. Microsoft Surface Go 2
Affordable Laptops for Students
Microsoft Surface Go 2 is a tablet basically but it can be extend to make a laptop. It comes with accessories like a stylus and keyboard that you can buy for little money. It has a chic business look that could be use by students and business professionals, both. Its compact size makes it a sure addition to some affordable laptops for students with great pricing.
Features
Microsoft Surface Go 2 has a screen size of 10.5 inches with a touchscreen. It makes it a handy and portable device to be carri anywhere and fit in every bag. It is lightweight at only 1.2 pounds.
Microsoft Surface Go 2 has a full HD front and rear-facing camera. It enables it to become a smartphone and a laptop at the same time. Students use the same camera is use for making video calls or taking online classes. Taking photos is an amazing activity to do with this camera too.
Hi-resolution for touch screen makes an excellent visual experience. It gives a high-quality picture that helps in browsing and video playing. Watching movies on this tablet-cum-laptop is a great visual experience.
Can be paired with a full keyboard that comes as an accessory with the product itself
Compact size
Lightweight and highly portable
Can be upgraded to Windows 11
Highly versatile due to its tablet-cum-laptop look
Sharp display
Fussy typing experience with a seemingly crampe keyboard since the size of the keyboard is match the touchscreen size
No significant improvements as compared to its previous model; still pricey
Conclusion
There are many affordable laptops for students that pupils can choose from. It depends on their needs and pocket that would help them select the best. Some laptops give great features with considerable upgrades from their previous versions that make them costly.
Other laptops have good-to-go features, at least contended enough for a student's use with an affordable price tag. Before making a purchase, it is certainly important to make a note of features that are require the most by the student himself, along with some fun attributes like gaming and music.